Post by concrete1992 on Mar 17, 2018 6:28:30 GMT -5
139. Virus (7 ballots, 540 points)
[HIGHEST RANKED 7 BALLOT WRESTLER]
High Voter: Jon (6)
Last Year's Rank: 106
"I have seen three (3) Virus matches. He will make the list.
First match was against Prayer. Virus is known as a high level grappler and this didn't disappoint. They just want out there and decided to do dope stuff and to keep chaining. Unique and quality bout that showed Virus leading a match he does so well.
Next match is against Xtreme Tiger. Virus is less known as a high level spotfest dude but that's not his fault. When it comes to busting out wild spots there aren't too many better than him. His crazy grappling spots out of nowhere look great but also his big flying spots should include a real life SPLAT graphic. At one point he does this top rope modified rana thing and I went to heaven. One of the best "OH MY GOODNESS AAAAHHHH" matches of the year.
The third is a not so notable trios match that is fine in part because he guided the entire first fall single handedly."
"He will make my list. I don't care, he's one of my favorite wrestlers, and his good matches are really fucking good still. Pretty much a guy who you can watch any trios match with and you'll see him completely guiding a fall, and every singles match is at minimum solid."
"Both of the matches linked to above are great. I thought the Xtreme Tiger match was built a lot like a 90s NJPW junior heavyweight match with excellent matwork at the beginning that lead in to bigger and bigger spots. The Prayer match is more mat-based and is one of the best mat-based matches I have ever seen. Virus is all over Prayer in this match, with Prayer just barely holding on and getting away from Virus. Very well-paced and every hold looks great.
I, too, have only seen 3 Virus matches this year, but my third match is this maestros match from Chairo. It has this segment towards the end where everybody was breaking up submissions (sort of like in WWE multi-person matches where everybody keeps running in an hitting their finisher one at a time) that I loved.
I think (hope) that I have another Virus match or 2 saved on youtube to watch, but based on the strength of these 3 matches alone Virus is a top 20 guy for me. Hell, maybe even top 10 if I finally watch that Prayer match again."
"Still the best maestro at leading newbs through matwork and taking dodgy young person offense and making it look killer. The 3/21 lightning match against Guerrero Maya Jr. shows he isn't completely wasted in CMLL (just mostly wasted) and has one of the most amazingly timed finishes I've ever seen in a time limit match. Had him at #22 last year and don't see any reason to change that much."
"Virus, like 90% of CMLL could be a huge contender but in CMLL's state there just aren't enough chances."
138. Becky Lynch (16 ballots, 543 points)
High Voter: Classic Catch (21)
Last Year's Rank: 64
"Been injured some. Been sitting in catering some. Been working multi-woman matches some.
Nothing really sticks out from a singles match standpoint. But there's enough there for her to possibly sneak in the Top 100.
Hope she gets a match with Ellsworth."
"It's crazy that the only thing that stands out to me for Becky this year was the cage match with Alexa in January. There's still time though."
137. Adam Cole (20 ballots, 546 points)
[LOWEST RANKED 20 BALLOT WRESTLER]
High Voter: Hunter Patterson (28)
Last Year's Rank: 134
"Maybe my least favorite wrestler (alongside Marty Scurll) going into 2017, but he had a very good year. Really good matches & performances in ROH vs. Tanahashi, Fish, Daniels. Also one of the absolute best indy matches of the year vs. Jonathan Gresham in IWC."
136. Daisuke Sasaki (8 ballots, 559 points)
[HIGHEST RANKED 8 BALLOT WRESTLER]
High Voter: Skylar (2)
Last Year's Rank: 219
"I'm gonna be the high vote on him so guess I have to make sure he's nominated"
135. Go Shiozaki (11 ballots, 560 points)
High Voter: Dylan Harris (19)
Last Year's Rank: 237
"Go has sort of reinvented himself as a great tag team wrestler this year. Kicked off the year having a bunch of great stuff with M-M-M-M-Maybach Taniguchi, including a MOTYC against Kenoh and Masa Kitamiya. IMO the GoToge stuff has been really good too, even if it looks like it's already over. His singles stuff hasn't been pure quality but the Fuji match is fine and the Cage match was a good intro for the Machine."
"As far as Kenta Kobashi tribute acts go, Go is pretty good. Hits hard and has tons of fire and aggression"
"The Global League Final match against Kenoh was awesome. Arguably the best NOAH match of the year."
"Great wrestler, badly underrated. Has had a strong year from the very beginning in both tags and singles. Had imo the best Nakajima defense and the GL Final ruled and he was the best wrestler in that match. Could see him Top 20-30."
"I have seen two matches from him and they are both considered two of the best matches in NOAH this year so hard to place him. Someone I want to make room for as him working an undersized Kobashi tribute gimmick is actually charming in the current wrestling landscape."
"After watching a few random matches on the RuTube, he is now definitely on my list and probably top 50. BIG soft spot for someone who can work big epic main events, singles AND tags, as well as straight up hoots. Not sure his arsenal has changed that much over the years but something about him feels less desperate. As if in prior years he was trying to make me think he was the next Kobashi. Now he just works like his uncle Kenta taught him how to wrestle but I'm my own dude, might not be THE dude but I'm good at what I do. Ya, know?"
134. Mark Haskins (12 ballots, 593 points)
High Voter: Timothy Robert Buechner (14)
Last Year's Rank: 77
"One of my favorite wrestlers from the UK scene. He hasn't put on anything I would call great this year, but he has been in plenty of matches I would call good to very good, such as Progress championship match with Pete Dunne, SS16 matches against Tyler Bate and Morgan Webster, and with his best being against Axel Dieter Jr. from Chapter 46. He hasn't hit the point he was at before taking time off with an injury last year but he's still a virtual lock for my list due to how much he's put on a level below that."
"I think his pre-injury work was much better than what he's done this year. I just can't think of many memorable matches that he's had. Lots of ***+ serviceable stuff but nothing that really stands out when the scene is so loaded with talent. I still need to see him in OTT and Lucha Forever, which I hear are quite a bit better than his PROGRESS work this year."
"I'll echo the sentiment that he's not blown me away this year like he's been able to in the past, but what carries him for me is his believability as a face. I can't name many people in wrestling right now who come across as a more genuine good guy (with a bit of an edge, sure) than Haskins, ESPECIALLY in the UK, that hive of villainy. Hopefully he knocks it out of the park with something in these last few months."
"Not the best Haskins year with missing the beginning of the year due to injury BUT I️ think he came back and killed it like nothing happened once he returned. In literally his first match back he has an amazing match with Mark Andrews in OTT that I️ could see people claiming was the best match in Europe in 2017, a real good match with Riddle too in OTT. The triple threat with Andrews and Dunne was stellar. A great Mike Bird match too. He's been a great addition to the regular FCP roster and regularly shines there in any setting. He has a fantastic match against young Kyle Fletcher there that definitely reminds you how good Haskins is and how he can lead almost anyone to a great match, his work as heel champ in Lucha Forever has been fun and the recent heel turn in PROGRESS with his wife and Jimmy Havoc with him has a lot of potential to bring some more life to his act."
133. Katsuhiko Nakajima (13 ballots, 605 points)
[HIGHEST RANKED 13 BALLOT WRESTLER]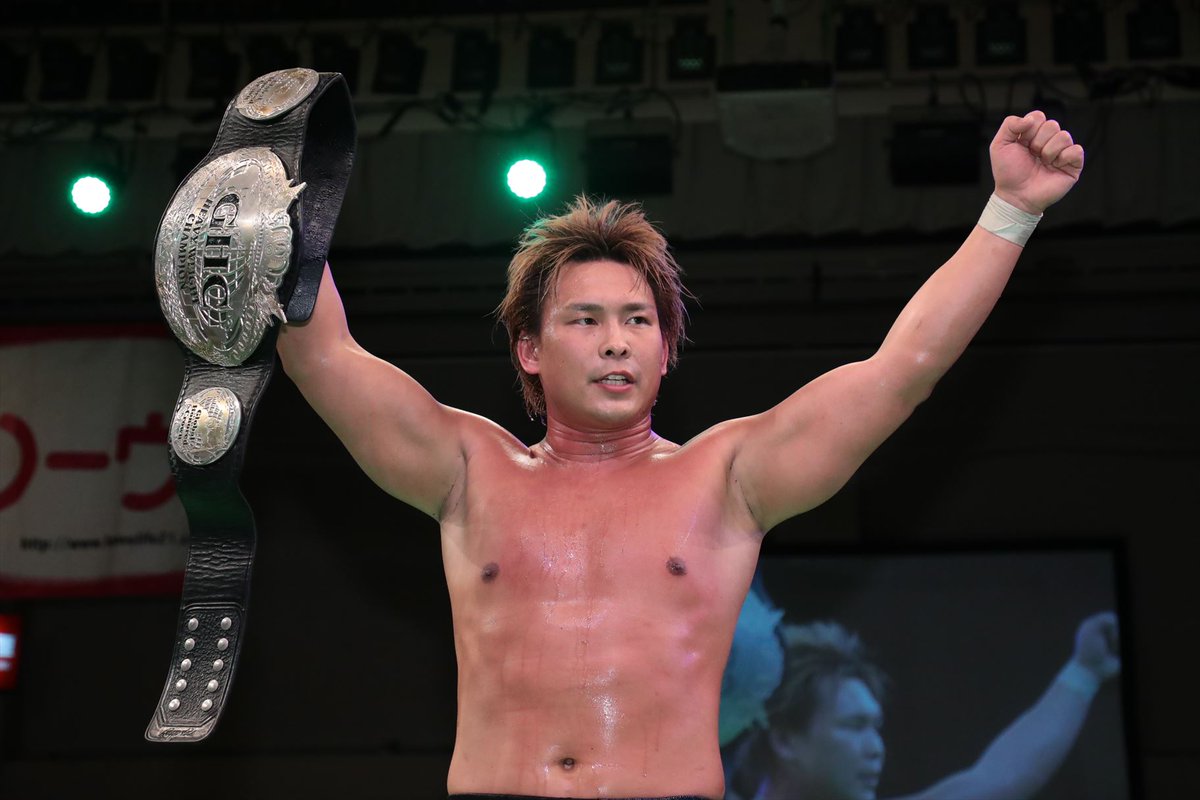 High Voter: Kevin Brown (10)
Last Year's Rank: 81
"Here's a guy who is helped a lot by the WDKW100 being an in-ring list. His status as semi-failed ace aside, he's been awesome this year. Started off with a super underrated banger against Suguira, held together a nearly doomed match against Go, and even has a high end MOTYC type match against Brian Cage of all people. The Eddie Edwards match is pretty great as well. Even below the most hyped matches are some really fun bouts with Kenoh and Yone. The only real bad main event match he's had was with Kotoge. He won't be a top 15 guy for me like last year, but will 100% make my list along with a bunch of other NOAH guys."
132. Randy Orton (15 ballots, 629 points)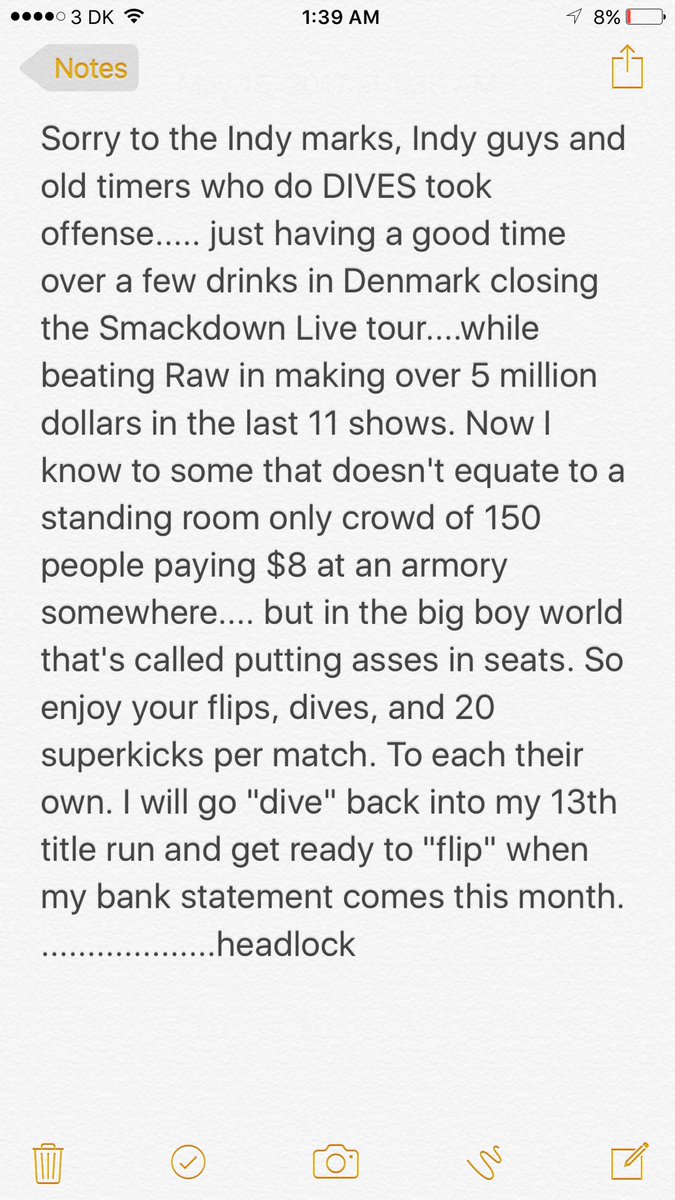 High Voter: Shaquill Stewart (21)
Last Year's Rank: 143
"I've enjoyed his 2017 more than most probably. I thought he had good matches with Jinder at MITB and on Smackdown, his #1 contender match with Shinsuke was a really good tv match, and I have a good feeling him and Rusev will kill it.
Also I was fine with the shenanigans involved in the Bray feud, the House of Horrors was for me incredibly stupid, but fun."
"His beginning to the year was really great. He had an amazing, maybe most underrated match of the year with Luke Harper at Elimination Chamber. Then he had two good TV matches with John Cena and AJ Styles. Then it all went to crap. The Bray matches were God awful. I liked the first two Jinder matches, but the Punjabi Prison match was horrible. His only good match in 2 months is the Nakamura match. He's on my list somewhere, but no clue where."
"Just did some note updating for my #WDKW100 and Randy Orton quietly has slid into my Top 20.
Obviously, your ranking of him will depend on your feelings of that Jinder program.
But he's has a very quiet, sneaky really good year. Very consistent all year long.
The Wyatt Family stuff was good. The Jinder matches were good. The Rusev sprints were good. The Orton No DQ match was good.
Heck of a year from a guy who probably doesn't even have to be a full time guy anymore.
Big fan of Randy Orton's 2017."
131. Curt Stallion (14 ballots, 647 points)
High Voter: Steven McCash (17)
Last Year's Rank: 302
"I'll probably be the high voter on him and that's fine, but the guy has had a fucking great year. If you want to call him a Shibata tribute act fine, lord knows he won't mind it, but I actually think I enjoy him more than Shibata because he's got a wider range of freakshow offense he can pull out of his ass, and the idea of a guy who looks like Kendall Windham and hits like Stan Hansen appeals to me. There is not any wrestler I'd rather watch live. None. He just has a radiating energy and authenticity to him that is impossible to deny in a live setting. It's kind of amazing to see him at Glory Pro especially, but he seems to resonate across the board. I'll never love the german no sell, but I admit that I tend to mind it less with him because he is so constantly hurting and fighting through it that it feels oddly in character for him. More than that I think his selling is actually excellent, probably better than all but a handful of people in wrestling. Extra points for working just as hard on smaller shows as he does for bigger ones. No nights off. Ever "
"Type of guy who I'd like to see in more places. I love 95% of what he does, and I think he's extremely underbooked. That being said, I feel like he needs a change of scenery. He's at a crossroads, and I would love him to go to Japan and pull out more of that hard hitting motherfucker side."
"I've been catching up on all of his AAW stuff over the last few days and man he is definitely going to be way high on my list. Watch him in AAW and tell me the guy is not an absolute sprint working machine. He delivers in every weird setting he was thrown into in that promotion that year, and ends up as a kind of standout of the "other guys" getting his way into the Lynam tourney and having an extremely fun match with the often boring ACH. There are some multi-mans this year he was a part of that were some of the most fun matches in the entire year. I think it's kind of difficult to argue against him as the MVP of Glory Pro this year as his matches with Irie, Callihan, Yehi, Stone, and O'Reilly were all legitimately very good to great, with a great deal of stylistic range being shown between the Irie match and the KOR match. He's proven to be a great and totally believable ace at SUP, where he's the most over guy on every show, and has delivered against a wide range of opponents. He delivered at Scenic City, his series with Myron Reed this year spanned multiple promotions and felt like the beginning of a career long, sure to be high quality, rivalry. He kicked ass on random shows like PGP where he'd often mix in comedy with different things. He works just as hard against a Frank Wyatt as he does a Sonjay Dutt. Maybe you could argue he doesn't have that one blowaway match and I'd probably be inclined to agree, but I'd rate him really high on average performance, and he has a remarkable amount of diversity in settings, roles played, opponents, match types, et. I'll likely have him no lower than my upper third, and he has an outside shot of making my top 15."
"I really liked both of his first two SCI matches but he left me wanting in the final. Whatever, that was Henry's match."
130. Nia Jax (21 ballots, 667 points)
[LOWEST RANKED 21 BALLOT WRESTLER]
High Voter: ceftaxias (12)
Last Year's Rank: 210
"Probably the most improved woman on the WWE roster? Depends on your perspective. I've actually always thought she was good and that Asuka match in Osaka may have been the best WWE match of 2016 that literally no one talked about.
Great chemistry with Sasha Banks. At times, has benefitted greatly from being in matches with more experienced workers.
Will also be making my Top 100."
"Made my top 100 last year in the 80-90 range. Will be there again this year. I don't get what people don't see in her. She brings such an important element to that division. I pray every night for a face turn and year long title reign."
"Nia has had some good showings this year (gauntlet match and 5-way at No Mercy) and may actually be showing improvement that I thought she made last year. But she's still had too many clunkers to make the cut. If she keeps it up, she might make it next year."
129. Hiroyo Matsumoto (10 ballots, 678 points)
[HIGHEST RANKED 10 BALLOT WRESTLER]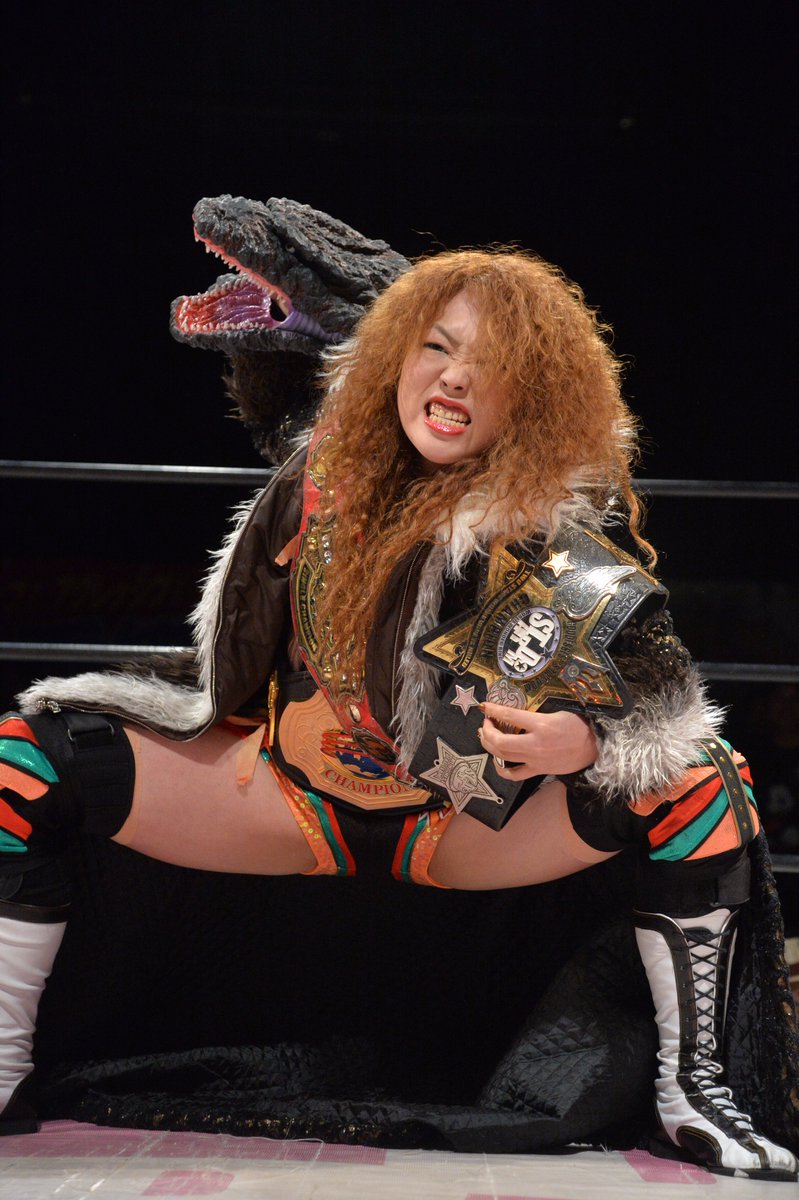 High Voter: JML (2)
"She's been the MVP for Joshi in 2017. She's had great matches in Stardom, Oz Academy, Sendai Girls, and Seadlinnng. Definitely a case can be made for best female wrestler in the world. Will definitely be on my ballot."
"She's also my candidate for joshi MVP in 2017, she's held titles in most major promotions and even found some time to train some singing idols so they could wrestle in a vanity promotion."
"After watching a few matches of her I am indeed INTRIGUED! She has such a unique presence. Matsumoto feels like a friendly giant. Wrestles like she is bigger than her opponents but does so with a smile on her face. She can lay it in and the matches I have seen haven't overstayed their welcome. Will seek out more."
"Unquestionably the Joshi MVP and best women's wrestler of 2017. Deserves so much more credit than she gets."
128. El Barbaro Cavernario (12 ballots, 681 points)
High Voter: Skylar (10)
Last Year's Rank: 53
"Imagine having a handful of the best young wrestlers in the world and unable to give them any shine at all. Tremendous in his team with and later against Volador Jr., very underrated match with Dragon Lee, and two really fun ones against Cometa. Plus he's usually the best part of every trios match. Someone free this man from CMLL."
"Been on the outs recently when it comes to CMLL but he's been impressive in the trios matches I've seen him in and had very good title matches with Dragon Lee and Volador. Desperately could have used him for the BOSJ."
"As long as he's putting on the face paint he'll be in the top portion of my list. I was a bit down this year's Cometa matches compared to last year's, but against his Parejas Increibles partner Volador he gave the best CMLL singles performance I've seen this year -- he didn't shake Volador out of his usual patterns because no one does; instead he added his spots and shaped those patterns into a match that was meaningful as well as exciting, and if that doesn't like much it's more than most maestros manage against Volador (hello, Ultimo.) Still, it isn't enough to justify keeping him in my top ten, as CMLL's booking may yet drive him to accountancy."
"Going through all of his matches and it's becoming more and more obvious he's had the best in-ring year of anyone in CMLL or at the very least second to Dragon Lee. So many wrestlers in CMLL work the same style but he does a great job of mixing in wild strikes with the occasional high spot making his matches far more engaging than his colleagues'. Top 30 pick."
127. Trent Seven (15 ballots, 689 points)
High Voter: Aqeel (15)
Last Year's Rank: 122
"Doesn't have the same resume as his British Strong Style stable mates do, but he hasn't been totally lacking of good matches this year. While teaming with Tyler Bate he had 2 good matches against CCK, War Machine, and Ringkampf, and had good 6 man tags against Ringkamf and the team of Jimmy Havoc, Mark Haskins, and Morgan Webster. His singles stuff has been pretty lacking this year so he won't make it too high on my list, especially now that BSS don't hold the tag team titles and may not be in tag team scene anymore, but I think he'll grab a spot late in the list."
"His skills don't really translate to this type of list. Obviously he holds his own in tags/trios, and his personality is integral to the BSS act, but that isn't a huge boon. His best singles match is probably the Riddle one at SSS16."
"I think Trent's singles work is being underrated a bit here because he's not as good as Bate or Dunne. He's got a great match with Riddle from Progress Orlando, a great match with Dunne from the WWE UK special and great matches with Travis Banks from Chap. 48 and Fight Club Pro. He's also got some fun multi man main events for FCP. I don't really like ICW, but his matches would usually be the highlight of any show I've checked out like Vs Wolfgang from Square Go.
Maybe I'll be the high vote on him."
"Great worker. Smart worker. Wouldn't mind if I never had to see him work ever again."
"I mean he's the least talented of the three British Strong Style folks but he's done more than enough to end up in my Top 100.
Would also point out that like Pete Dunne and Tyler Bate, his best work that I saw this year happened in WWE.
Wolfgang vs Trent in the UK Classic fucking ruled.
Tag match from Brooklyn vs Dunne and Wolfgang fucking ruled.
I saw a couple of bangers from Progress.
Tag match vs Pete Dunne and Mark Andrews also fucking ruled.
There's still a couple of WWE/NXT matches that I need to see so he'll actually go up my list.
Currently shaking."
126. Bayley (22 ballots, 692 points)
High Voter: ceftaxias (22)
Last Year's Rank: 59
"Really a down year for her compared to the past two years. Getting hurt didn't help.
And her making my Top 100 is probably contingent on what she does over the next couple of months.
Had a really good program with Charlotte in the early part of the year although the creative wasn't the best. The Alexa program was good. Her best match this year was that five way from No Mercy. Appears to be headed for a clash with Sasha Banks at some point. Hope she can stay healthy."
"Tough year for Bayley. She's actually had some pretty good matches the first half of the year and the five-way at No Mercy was really good, but besides that a very lackluster second half. She still has time yet though."
"She's probably in the low 90s for me. Not off my list but the lowest female wrestler on there. Her work with Alexa was terrible and got hurt just as I think she was going to get going again. Hope they get to this Sasha feud soon"
"I think the terrible booking in the Alexa feud masked that she has delivered in the ring. Really good opener at the Rumble with Charlotte, an excellent match with Charlotte on RAW when she won the belt, a great match at Mania in the 4-Way, a really good match with Alexa when she dropped the belt, a good match with Sasha before S'Slam, and another great match at No Mercy. She's got a good # of really good matches, but her cooking was so bad that's all anyone thinks about"
"She's unfortunately the number 4 on the Raw women's roster at best with Bliss, Sasha and Asuka clearly positioned ahead of her. She probably needs to switch brands (maybe swap her and Becky to give both a boost).
I thought the first half of the year was decent for her, but she's really not had anything of note since returning from injury."